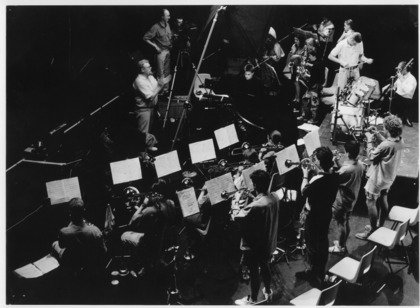 It is with great sadness that we share the news that Pat Kelly has died at the age of 88 on Thursday 11 June, with his wife Rose at his side.
Pat knew everyone and everyone knew Pat. He was ubiquitous in the jazz world working as performer, composer, arranger and mentor.
He worked as a musician for opera and musicals in the West End and, played with all the jazz greats at all the jazz clubs including the legendary Ronnie Scott's.
Patrick founded Berkshire Youth Jazz Orchestra – now PENDULUM to inspire young people in playing jazz. It became known as "a prep. college for young jazz musicians" and was one of the finest young Jazz orchestras in the country. Pat used his many contacts to compose original pieces for the young band. The commissioned works were recorded on the album 'Pendulum' which was nominated as UK's Jazz CD of the year.
Pat programmed the ever-popular Jazz at the Farm at Norden Farm for 20 years, bringing the finest national and internationally performing artists to the arts centre in Maidenhead. He also set up Schools Jazz Day, an annual celebration of jazz where young musicians would take workshops with some of the best jazz instrumentalists in the land, and end their time, playing and improvising with them on the main stage. The transformation of these young people through the day from nervous young people to professional musicians taking the stage by storm never failed to impress us all.
The world of jazz has lost a great man, who dedicated his life to music and creating opportunities for musicians. His passion for music, his kindness to others and his tenacity will be sorely missed. His spirit will continue to live on forever through the great music he's brought to the world and the inspiration he's given to others.