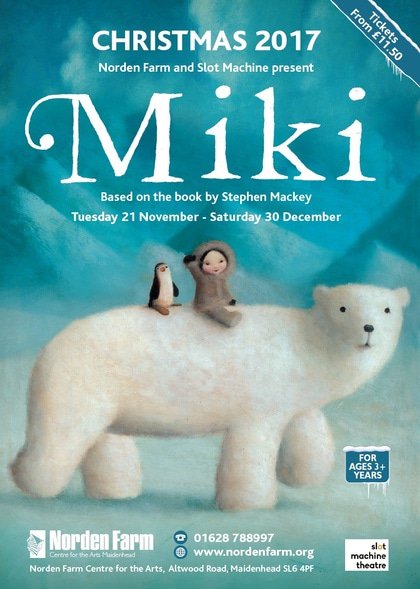 Enter for the chance to win a goody bag and turn on the Christmas Lights at Maidenhead Town Hall on Saturday 25 November!
Entries will also be displayed in our Gallery exhibition from between Tuesday 5 - Sunday 30 December.
How to Enter
Create your own artwork images inspired by Miki and where she lives:
Under the Sea
Draw, paint or create a scene from under the sea, where the creatures are on an adventure like Miki. Maybe some starfish hitching a ride with a narwhal or an octopus exploring a cave or a penguin picking underwater flowers.
Wintery World
Draw or paint one or more of the characters from the book in their own cold and wintery world.
Don't forget to decorate your frame!
You can download an entry form here, please remember to include your contact details on the back of your entry.
Entries will be judged in two age groups: 3 - 5 years and 6 - 8 years.
Please send your artwork to Norden Farm Centre for the Arts, Altwood Road, Maidenhead, SL6 4PF or drop them in to our Box Office.
Deadline for entries is Friday 10 November.
Click here for more information.