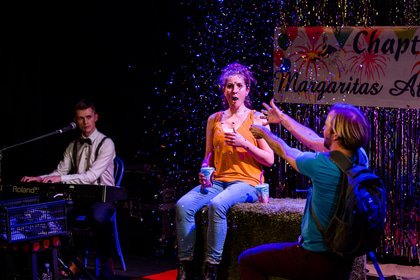 Presented by Silent Uproar.
A hilarious cabaret musical about depression that explains, sings and throws glitter about how it's OK not to be OK. Sally's a happy person. She doesn't let little things get her down and she almost never cries. But she's got an illness. It makes her feel like she isn't the person she wants to be, but she doesn't want anyone to know about it.
It's joyful, buoyant, gleeful, slightly silly, sugar coated, unrelenting and completely super happy! (Except for all the bits about depression).
Written by Jon Brittain (Olivier Award-winning Rotterdam), with music by Frisky and Mannish's Matthew Floyd Jones. Winner of a 2017 Fringe First and the Musical Theatre Review Best Musical.
Suitable for ages 14+ years.
WHY? 'A mix of wit and low-key emotion that suddenly grips your heart' The Guardian
★★★★ WhatsOnStage | ★★★★★ British Theatre Guide | ★★★★ The Scotsman
Click here to read the full review
Studio
£14 (£12 Advantage Card)
1 hour