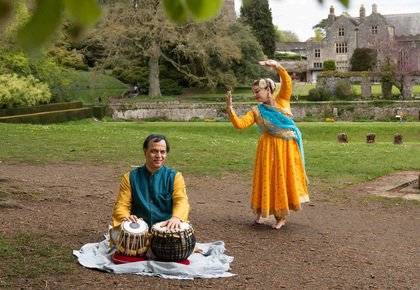 A dazzling exhibition of Hindustani classical music from tabla player Sanju Sahai.
Sanju Sahai is a phenomenal and outstanding tabla player. He is well known for mesmerising and captivating his audience with his power, virtuosity and complete spontaneity.
He brings together an incredible array of artists for the performance. Joining him are Pandit Vishwa Prakash on vocals and harmonium, plus tar shehnai and esraj exponent Kirpal Singh Panesar.
This traditional classical Indian music performance also features Kathak dance from Jaymini Sahai. Kathak is known for its intricate footwork, graceful hand movements, fast chakkars (spins) and mime and expression.
Sanju is an international artist and performs all over the UK, India, Europe, Middle East, USA, Australasia and the far East. He has accompanied many of India's legendary musicians and dancers, plus performed for Her Majesty Queen Elizabeth II and King Charles III.
Courtyard Theatre
£16