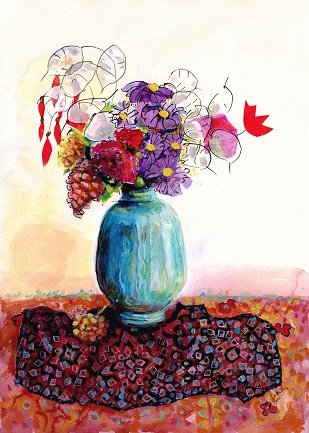 Led by Jo Hall
Glazing techniques historically used with oil paints can be much more rapidly achieved in acrylic. It is also very easy to incorporate collaged elements. This course explores ways to include collage and how to apply glazes to painted and collaged areas. Starting with some experimental exercises, over the six weeks we will go on to create works with a variety of subject matter; still life, landscape, building or interior.
Please bring your own materials and equipment and scroll down to find details of what to bring.
Heavy weight mixed media paper and small offcuts of mount board will be available from the tutor at cost.
Tues 25 Apr - 30 May
12.30pm - 3.30pm
£120 per 6-week course
Suitable for 18+ years
Materials Info
Acrylic paints and brushes
Palette
Acrylic medium (Matte, Gloss or Glaze)
Not essential: clear gesso
Matte and gloss mediums can be used as glue
PVA and old brush for glueing
Paper towel, palette knife, water pots, scissors
Support: Heavy weight multimedia paper, cardboard or mount board off cut
Masking tape
A handful of found papers for collage (e.g. newsprint, brown wrapping, old map, sheet music, origami paper, or old work on paper that is about to be thrown out)
Small sketchbook or cartridge paper for experiments notes and ideas, pencil