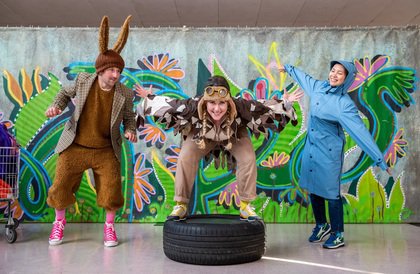 Presented by By Den and Signals.
Everyone's here for the AGM – the Animals' General Meeting – but as usual one species hasn't turned up, and it's the species which has been causing all the trouble… The humans.
Buzzard, Rabbit and Porpoise know that something's got to be done, but they need you to grab your species ID badge, step into the paws of your favourite creatures and help the humans work out how to be better neighbours to all the other animals. Whatever happens, it's going to be wild!
Fun, interactive and featuring original songs, Animals! is an empowering and uplifting performance about animals, humans and nature. It celebrates the amazing wildlife around us and makes big things feel possible.
This event is part of Quest Family Fest 2023. Join us to navigate your way through 2 weeks of creative adventures.
Suitable for ages 6+ years.
Studio
£12 | £10 under 16s
Family and Friends (4 people) £40