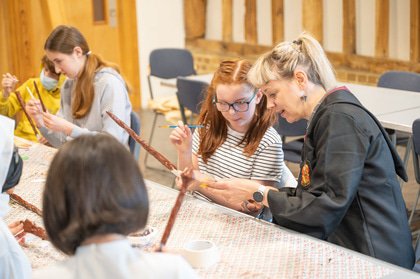 Led by Lucy Wright.
Join Lucy Wright for a creative adventure over four days. Working towards a final exhibition where the artwork will come to life, Lucy and her team will be designing and creating large scale puppets and the landscapes they inhabit in this exciting and creative activity week.
This event is part of Quest Family Fest 2023. Join us to navigate your way through 2 weeks of creative adventures.
Food:
Participants can order lunch daily from our Café Bar by filling out the Lunchtime Choice Form at the registration desk.
The Lunchtime Menu is £7.50 and includes a choice of:
• Healthy Veggie Platter
• Penne Pomodoro
• Cheese & Ham or Cheese & Tomato Pizza with Salad
• Fish Fingers with chips
• Chicken Nuggets with chips
Plus a soft drink and a tub of ice cream

Alternatively there a Picnic Bag is £5 and includes:
• A Tuna, Ham or Cheese roll
• Fruit juice, biscuit, veggie sticks and a packet of Pom Bear crisps
There will be film screenings every day after the course has finished:
Tues - Thur 4.15pm – 5.30pm (approx)
Titles are still to be confirmed – keep an eye on the website for details!
Tues 11 Apr – Fri 14 Apr 11am – 4pm
£160 (£145 Advantage Card holder)