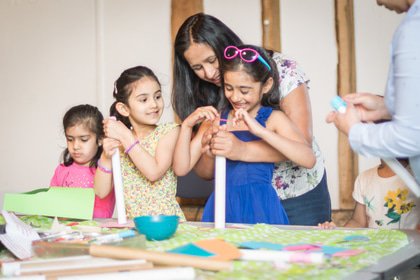 Join us in half term for crafts inspired by our family shows. The crafts vary so you can create something new at each session.

Tues 14 Feb | 3.30pm
Design and create an articulated woodland character - inspired by the puppets in our family show Breathe. Use collage and coloured pencils to create your own little character to hang in your window.

Wed 14 Feb | 3.30pm
Create an acorn sun catcher using tissue paper, inspired by the little acorn puppet in our half term show Breathe!

Fri 17 Feb | 3.30pm
Make and decorate your own music shaker! Choose from a selection of noisy options such as beads and rice to create your very own sound! Why not bring to shake away at our half term show Concertini?

£5 per person
Suitable for ages 3 - 8 years
All materials provided. Children must be accompanied by a paying adult.