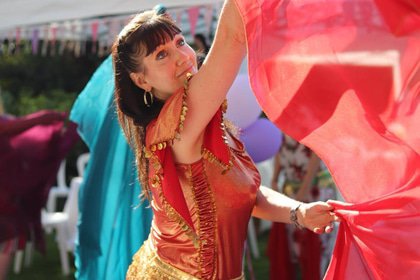 Led by Ellen O'Farrell.
You're never too young or too old to learn to dance. Join us and learn to bellydance step by step. Come discover this beautiful art form, gain an appreciation of middle eastern music and have lots of fun doing it. As a great side effect you'll get some low impact exercise and strengthen your core muscles.
Classes are suitable for complete beginners. Wear anything you are comfortable dancing in, yoga trousers or a long full skirt are both ideal. Ellen brings a selection of egyptian coin belts and hip scarves you can borrow to dance in.
Autumn

Tues 10 Sept - 8 Oct, 15 Oct - 19 Nov (exc 22 Oct) and 26 Nov - 17 Dec
2.30pm - 3.30pm
£12 per class | £45 per 5 week course, £35 per 4 week course