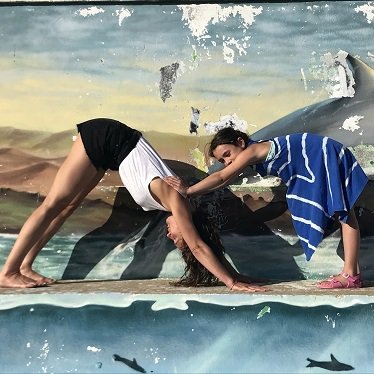 Led by Carly Brown
A class for parents/carers and their children. Connect and bond through movement and breath. Learn yoga postures, a gentle bedtime yoga sequence, meditations based on popular fairy tales and relaxation techniques. No previous yoga experience needed.
You will need one yoga mat (per pair) and one blanket each.
Suitable for ages 4 – 8 years, must be accompanied by an adult.
Sun 21 Mar
10.30am – 11.15am
£15 per pair (1 adult and 1 child)
Booking cut off time: 4pm on the Friday before each class
---
Big Dog, Little Dog: Parent & Child Yoga is part of our Sunday Funday series of online workshops for families to enjoy this spring. Other monthly sessions include Magic and Storytelling, Mindful Storytelling and Kayleigh's Crafts.
---
How do our online classes work?
The classes will take place via a video stream on Zoom where you'll be able to use the camera and audio on your tablet, laptop or other device to see and hear the tutor and other participants.
You simply need to book on to your class or workshop of choice as normal by the cut off time. We'll then send you an email with a link to your session, password and a meeting ID. These will be emailed to you after the booking cut off time, shortly before the class begins.
If you'd like to learn more about joining a meeting on Zoom, click here for a handy guide.