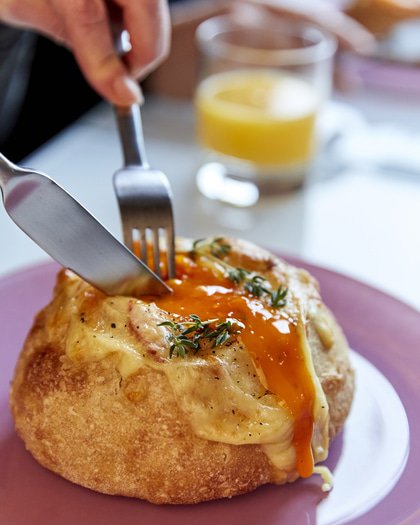 What better way to spend the weekend than by joining us for a relaxed 90 minute brunch?
Our 18th century barns are perfect backdrop for a sociable Saturday morning of food and drinks.
We've teamed up with the fabulous Breakfast en Bread to bring their delicious (and Instagram worthy) food to The Farm.
Bringing together the British love for a great breakfast and the French passion for beautifully baked, fresh bread, Breakfast En Bread uses signature sourdough loaves, hollowed out and packed with delicious, locally sourced ingredients.
Your leisurely brunch wouldn't be complete without bottomless Bloody (or Virgin) Marys, Mimosas, fruit juice, tea and coffee.
Sat 16 Oct and Sat 27 Nov
11.30am - 1pm
Tickets are £27 per person and include either an Original or Vegan Breakfast en Bread™, plus Bloody (or Virgin) Marys, Mimosas, fruit juice, tea and coffee during the 90 minute brunch.
The 90 minutes begins at 11.30am and will end at 1pm. Any drinks after 1pm will need to be paid for.
Book your ticket by selecting you choice of Breakfast en Bread™ - you can find out more about each delicious option below...
---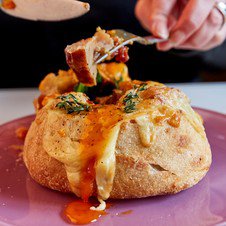 THE ORIGINAL
Brimming with a full English breakfast including a Barge House Banger, smoked back bacon, oyster mushrooms, spinach, leeks and tomatoes, the loaf is then sprinkled with cheese and topped with a free-range egg.
---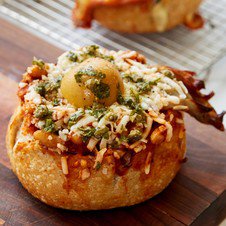 THE VEGAN
Breakfast en Breads signature sourdough is lined with kale and filled with cannellini beans in sweet and juicy passata sauce. Oyster mushrooms, slow-roasted banana shallot, topped with vegan mozzarella, preserved lemon, and finished with green sauce.
---
Click here to visit the Breakfast en Bread for ingredients, allergens and nutritional information.
---