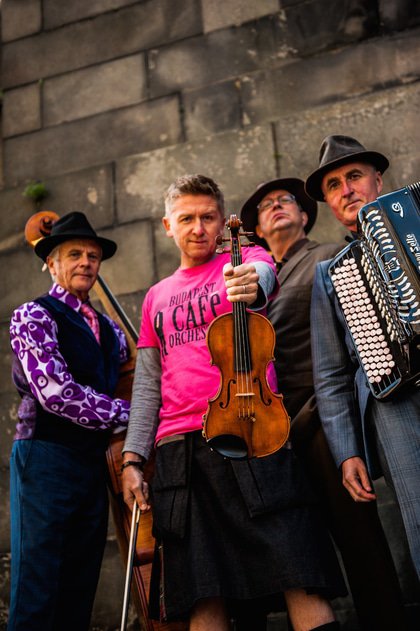 Christian Garrick (violin, darabuka)
Eddie Hession (button accordion)
Adrian Zolotuhin (guitar, saz, balalaika, domra)
Kelly Cantlon (double bass)
The Budapest Café Orchestra were established in 2009 by British composer, violinist and band leader, Christian Garrick.
They play traditional folk and gypsy-flavoured music from across the world. Raucous, toe-tapping Balkan and Russian numbers are combined with jazz and swing inflections. Klezmer, Romanian Doinas and Hungarian Czardas are awarded fresh treatments before they give way to a disarmingly beautiful arsenal of ballads such as the Schindler's List theme or Andy Statman's bitter sweet The Flatbush Waltz. The diverse repertoire often even strays over into the technicolour territory of many a well-loved film or television score.
WHY? 'Back by popular demand, the fiery vivacity and awe-inspiring musicianship of the finest purveyors of Eastern European gypsy music this side of a Lada scrap heap will leave you with a grin on your face and rhythm in your feet' The Times
'The music is magic in their hands' Sean Rafferty BBC Radio 3
'Evoking vivid images of Tzigane fiddle maestros, Budapest café life and gypsy campfires - plus a few surprises along the way - hugely entertaining, immense skill and profound musicianship, a show by the BCO is good enough to make you want to book that holiday down the Danube!' Songlines
'The boys from the BCO eek out an interesting advantage over others in that they are musically connected to the culture rather than culturally connected to the music and this manifests itself in their performances which are among the most fulfilling live entertainment spectacles you are ever likely to find of any genre' BBC Celtic Connections
Courtyard Theatre
£16, £14 Supporters