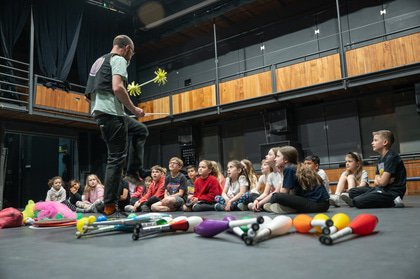 Led by And Circus.
A week of incredible circus skills and performing. Learn to walk on stilts, ride a unicycle, walk the tightrope and perform on a trapeze!
Suitable for ages 7 - 15 years.
Tues 25 - Fri 28 Jul | 10am - 4pm
£220 | £200 Advantage Card holders (enter 'ADVANTAGE' when asked to enter a promotion code and then type your Advantage Card number when prompted)
From Tuesday to Thursday, there will be film screenings after the course.
Starting at 4.15pm and finishing at 5.30pm (approx):
Tues 25 Mummies (U)
Wed 26 The Lego Movie (U)
Thur 27 The Super Mario Brothers Movie (PG)
Food:
Participants can order lunch daily from our Café Bar by filling out the Lunchtime Choice Form at the registration desk.
The Lunchtime Menu is £7.50 and includes a choice of:
• Healthy Veggie Platter
• Penne Pomodoro
• Cheese & Ham or Cheese & Tomato Pizza with Salad
• Fish Fingers with chips
• Chicken Nuggets with chips
Plus a soft drink and a tub of ice cream

Alternatively there a Picnic Bag is £5 and includes:
• A Tuna, Ham or Cheese roll
• Fruit juice, biscuit, veggie sticks and a packet of Pom Bear crisps