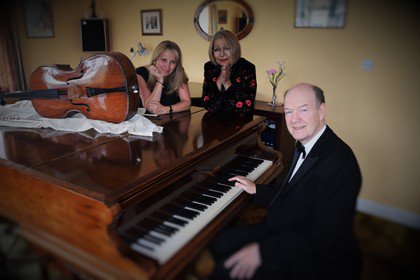 This exciting trio comprises of Lois Geldard (flute), Clare Deniz (cello) and Alan Brown (piano).
Handel Sonata in B minor 'Halle'
Beethoven Seven Variations on a theme from Magic Flute (cello/piano)
Kuhlau Grand trio in G major Op 119
Debussy Syrinx (solo flute)
Debussy Trio
Kapustin Trio Op 86
The trio are established London performers, each one having given solo concerto performances and played at numerous festivals in the UK and abroad both as soloists and as members of chamber ensembles.
The sum total of the trio members individual professional experience is immense and they guarantee a refined and delightful concert of music in which they share their sparkling and effervescent repertory, due to the trio instrumentation.
The repertory ranges from Baroque up to the present day but has at its core some reminiscences of the romanticism of the nineteenth century music salon. Two notable recent concerts have been at The Hawth, Crawley and at the famous established Celebrity Concert series at The West Lodge Hotel.
WHY? A delightful concert sharing a sparkling and effervescent repertory
Studio
£14 (£12 conc)