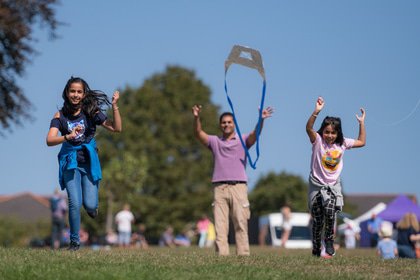 Kite Flying • Food • Bar • Music • Kite Making
Join us at Boyn Grove Park (Punt Hill) for our Community Kite Festival on Sunday 1 September between 1pm - 4pm. It's free to attend!
Round off the summer holidays in style with an afternoon of fun for all the community! Bring your kite creations, pre-owned or shop bought kites and join our team to fly them on the hill. Everyone is welcome, with or without a kite!
As well as all the kite flying fun, the afternoon will include kite making, food from local vendors and a bar serving soft drinks and beer provided by Marlow based Rebellion Brewery.
At the event, there'll be the last chance opportunity to get creative and make your very own kite if you haven't already
So head on down, enjoy the spectacle and celebrate with the community!
---
Kite Making Workshops are led by specialist kite makers, Community Kite Project. All are welcome to join in to design and create their own original kite to bring along to the Festival.
Workshop Details:
Wednesday 24 July | 11.15am - 1.15pm
Wednesday 7 August | 11.30am – 1pm and 2pm – 3.30pm
Wednesday 14 August | 11.30am – 1pm and 2pm – 3.30pm
Saturday 24 August | 11.30am – 1pm and 2pm – 3.30pm
Workshop tickets are £3.50 per person and can be booked online here.
What better excuse to go fly a kite this summer!
---
With thanks to our funders: Shanly Foundation, RBWM, The Louis Baylis (Maidenhead Advertiser) Charitable Trust, and The Cyril Taylor Charitable Foundation.
---