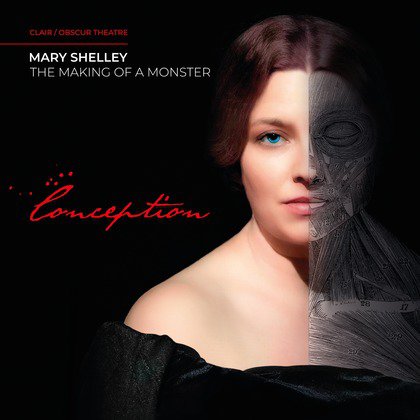 Presented by CLAIR/OBSCUR Theatre.
This event marks the 200th anniversary of the first publication of Frankenstein to bear Mary Shelley's name.
Conception charts a profound voyage of self -discovery for this exceptional writer in her maturity. A journey that trips through the Romantic poetry of Mary Shelley's contemporaries – P B Shelley, Byron, Keats - soaring like the Skylark and pummelling the depths of Darkness to a final, bare and brutal confrontation with her creation on the Mer de Glace.
October 1840: Gothic writer, Mary Shelley's first pilgrimage back to Europe in twenty years in defiance of her father - in - law's express wishes.
Does Mary have the courage to confront the past as she returns to Lake Geneva, her birthplace as a writer and of her most famous novel Frankenstein? Will she find the solace she seeks among Villa Diodati's rooms, terraces and vineyards where herself, Percy Shelley and Byron spent that unforgettable summer…
Was she the same person who had lived there, the companion of the dead?
More powerful and essential storytelling from Clair Obscur (S.O.E, a necessary woman) celebrating another glorious female icon…
Courtyard Theatre
£16
Clair Obscur Theatre website
@ClairTheatre
@nordenfarm