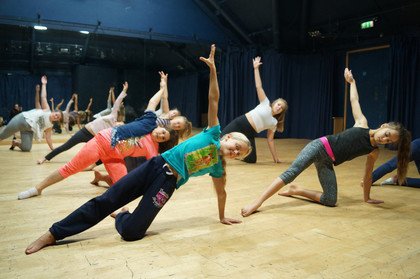 Led by Charlie Dixon
Dance week is an energetic creative dance course over 5 days, led by Charlie Dixon a local dance teacher and choreographer.
This jam-packed week will give young people the opportunity to take part in contemporary dance technique class, choreography workshops and participate in designing and crafting a brand new dance film - Dancing from my Sofa

Dancing from My Sofa is inspired by our current situation and how we've all learnt to adapt over the last few months. So, come a get creative with our epic new dance on film project based around your very own sofa/settee/couch/armchair or chaise lounge!

This course is open level course for dancers with mixed abilities, and great opportunity to build on existing skills in a friendly creative atmosphere from the comfort of your own home.
Suitable for ages 8+ years.
Mon 17 - 21 Aug
10am - 1pm
£80 (£75 Advantage Card holders)
Booking cut off time: Fri 14 Aug 5pm

Advantage Card holder tickets can be booked online using the code ADVANTAGE and entering your advantage card number when prompted.

The schedule includes:

Daily Contemporary Dance technique workshop sessions
Strengthening exercises
Travel sequences and phrases
Creative tasks including solo, duets and group tasks
Choreography and rehearsal sessions
Creation of Dancing from My Sofa short film
We want everyone to be safe while practising dance at home so please ensure that all children are wearing appropriate clothing and footwear and that you have suitable space to move in and have cleared the space of any potential hazards.
---
This session should be fun for you and your little ones, please support where necessary and ensure that children are always supervised during the class.
---
How do our online classes work?
The classes will take place via a video stream on Zoom where you'll be able to use the camera and audio on your tablet, laptop or other device to see and hear the tutor and other participants.
You simply need to book on to your class or workshop of choice as normal by the cut off time. We'll then send you an email with a link to your session, password and a meeting ID. These will be emailed to you after the booking cut off time, shortly before the class begins.
If you'd like to learn more about joining a meeting on Zoom, click here for a handy guide.