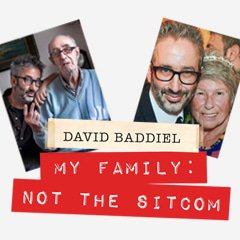 David Baddiel brings his critically-acclaimed show My Family: Not The Sitcom to Norden Farm before embarking on a 10 week residency in London's West End.
My Family: Not the Sitcom is a massively disrespectful celebration of the lives of David Baddiel's late mother, Sarah, and dementia-ridden father, Colin.
It's a show about memory, ageing, infidelity, dysfunctional relatives, moral policing on social media, and gay cats. Come and be offended on David's behalf for the final time in the West End.
'Baddiel launches himself into the Louis CK league of no-holds-barred comedy' Metro
'This is a rare production that boasts side-splitting laughs and also moves people to tears' Evening Standard

'Compelling to watch both for its unvarnished truth and complicated affection' The Guardian
'Hugely funny…If you're going to disrespect the dead and the incapacitated, do it like this: truthfully, inventively and, finally, lovingly' The Times
'Universally joyful… I wish this show long life' Chortle
'Rare to see one that draws its subject as honestly, vividly and humorously as this' The i

'A show that bubbles with love and unexpected joie de vivre' The Telegraph
★★★★★ Metro | ★★★★★ Jewish Chronicle | ★★★★★ Heat | ★★★★ The Guardian | ★★★★ The Times | ★★★★ The Telegraph | ★★★★ Sunday Times Culture | ★★★★ Evening Standard | ★★★★ The i | ★★★★ WhatsOnStage | ★★★★ Mail On Sunday, Event Magazine | ★★★★ City A.M. | ★★★★ The Arts Desk | ★★★★ London Theatre