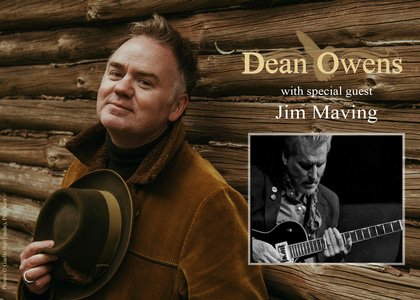 Award winning Scottish singer songwriter Dean Owens is one of UK's finest troubadours, with fans including authors Irvine Welsh and Ian Rankin, and BBC legend Bob Harris.
Hard to pin down to a particular genre, his music is a unique blend of Scottish roots and Americana – the unfettered enthusiasm of a rock n roller coupled with the sympathetic delivery of folk's best storytellers. A compelling performer, with a searingly soulful voice that is warm, subtle and powerful.
He's joined by regular collaborator, guitar maestro Jim Maving (Case Hardin, Don Gallardo), on electric, delta slide and mandolin. Two outstanding live performers, their gigs are marked by a joyous onstage chemistry, and exuberant standing ovations.
Dean's music has taken him all over the world, particularly across the USA, where he has made most of his eight solo albums, including the celebrated Sinner's Shrine (2022), recorded with 'desert noir' legends Calexico, adding some Latin/mariachi tones to his musical palette.
'The pulse of all our lives' Irvine Welsh
Best UK Act of 2021 Americana UK Readers Poll
UK Song of the Year Award 2019 UK Americana Music Association
'Magical… one of the happiest and most life affirming shows of the year' Americana UK
'One of the most interesting and innovative artists in Americana' Lonesome Highway
'Music that is varied, vibrant and thoroughly fascinating' American Songwriter
'Visionary and rewarding; don't hesitate in exploring' Folk Radio UK
Studio
£15