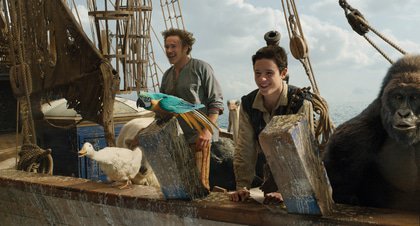 Dir: Stephen Gaghan 2020 | 101 mins, US
The eccentric Dr John Dolittle has hidden himself away behind the high walls of Dolittle Manor with only his menagerie of exotic animals for company. But when young Queen Victoria falls gravely ill, he must set sail on an epic adventure to a mythical island in search of a cure.
WHY? A vivid reimagining of the classic tale of the man who could talk to animals
Courtyard Theatre
£8 (£6 under 16s)
Family & Friends (4 people) £24
Relaxed Screenings
The screening on Tuesday 21 April at 11am is a Relaxed Screening. Everyone is welcome to join us for this friendly format. The house lights are kept on and audience members can come and go as they please.