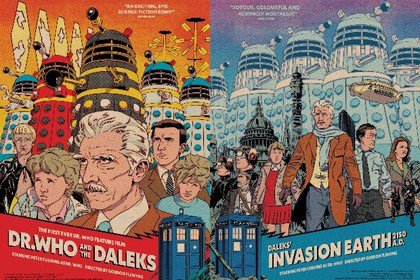 Dir: Gordon Flemyng 1965 / 1966 |182 mins
A brand new 4K restorations of the two classic Dr. Who feature-length films starring award-winning actor Peter Cushing – Dr. Who and the Daleks' and Daleks' Invasion Earth 2150 A.D.
Released initially in 1965 and 1966 respectively and directed by Gordon Flemyng, these two films, shot in glorious Technicolor, have been regenerated in out-of-this-world 4K. The films also boast a beloved supporting cast including Bernard Cribbins, Roberta Tovey, Roy Castle and Jennie Linden.
Dr. Who and the Daleks' (1965) was the first big screen film adaptation of British TV's most iconic sci-fi hero, and the first time Doctor Who was ever seen in colour. Having invented the Tardis, a strange machine capable of travelling into other dimensions, the Doctor and his three young accomplices set forth on a quest through time and space. Their journey takes them into the dark, undiscovered depths of the universe and to the planet of Skaro, a primitive world devastated by nuclear war and populated by two warring species, a peaceful tribe known as Thals and a life form heavily mutated by radiation, encased in protective machines, a merciless force of destruction known as The Daleks!
The second film, Daleks' Invasion Earth 2150 A.D sees Cushing return to the big screen – the future of Planet Earth now belongs to The Daleks, but deep within the London Underground a group of resistance freedom fighters are planning an attack. Can The Doctor help them succeed in destroying their extra-terrestrial enemies and take back control of Earth?
£10.50 | £9.50 conc

Three Films Ticket Offer
£9 / £8 conc tickets when you book for three films at the same time. Offer excludes event cinema screenings. Offer applied in basket.

Socially Distanced Screening
The screening on Wed 17 Aug 7.30pm is socially distanced with a reduced capacity. Face coverings are optional. Food and drink from our Cafe Bar can be taken into the theatre as normal.

Talking Tables
The screening on Tues 16 Aug 8pm is a Talking Tables screening. These events aim to bring people together in a relaxed environment to discuss films, share ideas and most importantly - to meet new people! It is particularly aimed at people coming to Norden Farm on their own, but all are welcome. To take part, simply book in to see the screening, then join the group in the foyer before and after the film.
Due to staff shortages our kitchen will be closed until Tuesday 6 September. The bar will remain open as normal. Please accept our apologies for any inconvenience caused.