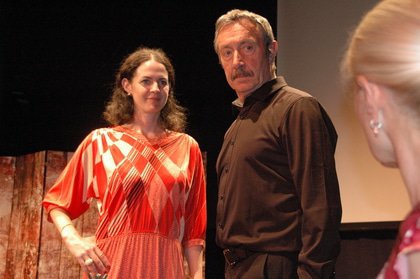 Presented by DRH Arts.
Draining the Swamp is a provocative new play developed by The Company. It Explores the character, activities, and legacy of Sir Oswald Mosley, who was given a short, sharp portrait in the BBC Peaky Blinders series.
From the perspective of the 1960s, and the emergence of the European Union, Sir Oswald Mosley looks back on his experiences in the 1930s.
The play brings to life the meteoric political rise of Mosley as a potential Labour Prime Minister, and the subsequent founding and development of the British Union of Fascists. We see Mosley and Diana Mitford on their wedding day at Joseph Goebbels's house in Berlin, and witness the events leading up to the infamous Battle of Cable St before the Mosley's are incarcerated in Holloway Prison.
Reflecting from the perspective of his silver and ruby wedding anniversaries, Mosley ponders on his legacy and the opportunities for future political leaders to communicate with and stir the masses.
Finally, that legacy is given substance in events taking place in 2019.
'This is a first-class piece of biographical theatre and a very enjoyable 80 minutes which I would recommend catching' ★★★★ One4Review
'Rowland D Hill gives an assured performance, portraying the oily charm and charisma of Mosley' North West End UK
'An entertaining and informative play' British Theatre Review
Studio
£15 | £13 (conc)