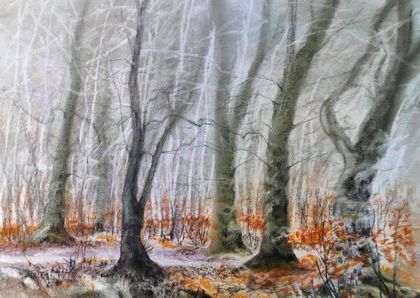 Led by Jo Hall
Working with chunky drawing materials graphite, charcoal or tinted versions of these, draw a tree or group of trees on white or toned A2 paper, or larger.
You may also work in earth colours of conte crayon and bring less chunky versions of the same materials for finishing touches or texture details.
Photo reference will be provided or bring your own.
Materials - please bring the following:
White cartridge paper or toned paper suitable for pastel - A2 would be ideal
Drawing board, clips or tape to hold paper
Any of the following (a great opportunity to use chunky tinted charcoal or tinted graphite blocks): Charcoal, graphite sticks, chunky coloured graphite, chunky tinted charcoal, conte crayon in black, sepia or sanguine, white chalk if using toned or black paper. You don't need them all, just bring what you have. You may bring smaller sticks or pencil forms of any of the above for fine detail.
Paper towel, blending tools (stumps, torchons etc useful but not essential)
White A2 cartridge paper will be available at cost.
Some chunky materials will be available for you to try at the session.
Sat 19 Nov
11am - 4pm
£40