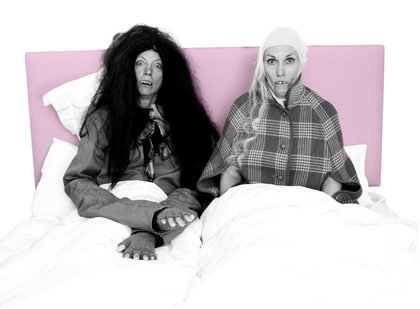 Expect fantastical characters, ridiculous puppetry, extreme wigs, physical comedy and delightfully dark humour. Sixty minutes of laugh-out-loud joy, dissent and touching humility for anyone who is considering ageing.
Enter the Dragons is an hilarious, surreal odyssey through the challenges of growing older, which explodes myths about beauty, sex and femininity.
An archetypal Hero is reframed as a mature woman in the modern world. Gripped with
fear at her advancing years, she sets off on an epic quest to defeat Chronos, the god of time, and halt the inevitable - ageing. Will she succeed?
Written and performed by Abigail Dooley and Emma Edwards
WHY? 'Abigail Dooley and Emma Edwards are a brilliant comedy coupling: the writing is sharp as a witch's nose' Total Theatre
'Utterly hilarious, simply ingenious' ★★★★★ Broadway Baby
Suitable for ages 16+ years.
(contains strong language and nudity)
Studio
£14 (£12 conc)
Presented by A & E comedy
---
We have been informed that the M4 will be closed in both directions over the weekend of 29 November – 2 December 2019, between junctions 6 to 8/9. The closure will start at 8pm Friday 29 November and the motorway will reopen by 6am on Monday 2 December 2019. Click here for further details.