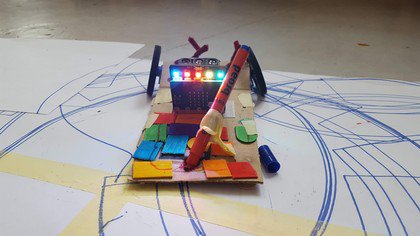 What's better than making a robot? Making a robot that can draw.
Design and build a robot using Microbit, motors, wheels and scrap materials. You can then help it to draw you a picture. You can take away the picture and what you build except the electronics and motors.
This event is part of Quest Family Fest 2019. Join us to navigate your way through 2 weeks of creative adventures.
Farmhouse
£4.50 per workshop
4 workshops £16
The Explore Pass offers access to 4 different workshops for £16 per person – saving £2 (Give it a Go! Festival Pass can be used by named participant only)
For your information:
We strongly recommend you book in advance for Explore workshops as it is highly unlikely that tickets will be available on the door
Workshops for specific age ranges are designed for the children to attend on their own.
Family Workshops are designed for children and adults to get creative together – a ticket must be booked for every participant attending
We expect the carpark to be busy so please allow at least 15-20 mins to park / walk to Norden Farm / pick up tickets / find your workshop
Workshops will take place across the building - Norden Farm will be well sign posted, use posters to find out where you should be and check the location on your tickets
We recommend dressing for mess at our workshops
The Café Bar will be open from 9am, serving food from 9am - 3pm. Why not start the day with breakfast? Snacks and soft drinks can be bought throughout the day. Newspapers and WiFi are available to keep adults entertained!
Our team of friendly Young Leader volunteers will be on hand to help (look out for their lanyards)
Have fun!
If you can no longer make your workshop, please let our Box Office team know so that the space can be freed up for another participant!
Disclaimer: Please note that a photographer will be present at some Explore! Workshops. Images will be used for Norden Farm marketing purposes, including, but not limited to, use in printed material such as brochures, on the website and social media, and in local publications. If you do not wish your child to be photographed, please advise our Box Office team on the day (Friday 19 April).
Click here to learn all about The Quest. Collect stamps this school holiday to become the Ultimate Explorer.