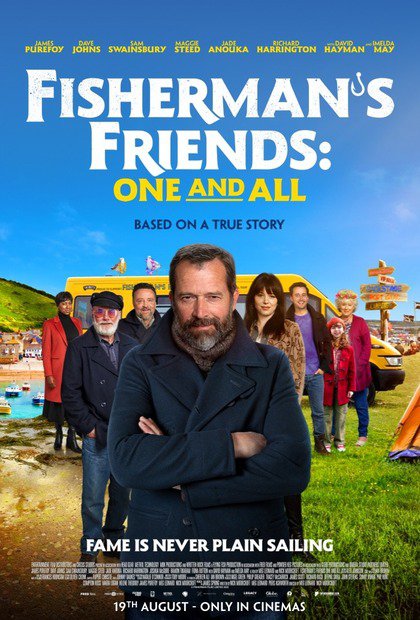 Dir: Meg Leonard, Nick Moorcroft, 2022 | run time tbc
Following the unexpected success of their debut album - No Hopers, Jokers and Rogues - we rejoin the world's oldest 'buoy band' a year later struggling to navigate the pressures, pitfalls and temptations of their newfound fame.
Fisherman's Friends: One and All follows the celebrated shanty singers through the highs and lows as lifelong friendships are put to the test and they battle the dreaded 'curse of the second album'.
£10.50 | £9.50 conc

Three Films Ticket Offer
£9 / £8 conc tickets when you book for three films at the same time. Offer excludes event cinema screenings. Offer applied in basket.

Bring Baby Screening
The screening on Fri 23 Sept 11.30am is exclusively for parents, carers and grown-ups with children under 2 years. Lights are kept on low level and you can move around if you need to. Tickets are £5.50 for adults (including a cup of tea/coffee); babies and infants are free of charge. Seating is unreserved and unaccompanied adults are not admitted.

Socially Distanced Screening
The screening on Wed 21 Sept 2.30pm is socially distanced with a reduced capacity. Face coverings are optional. Food and drink from our Cafe Bar can be taken into the theatre as normal.

Talking Tables
The screening on Tues 20 Sept 8pm is a Talking Tables screening. These events aim to bring people together in a relaxed environment to discuss films, share ideas and most importantly - to meet new people! It is particularly aimed at people coming to Norden Farm on their own, but all are welcome. To take part, simply book in to see the screening, then join the group in the foyer before and after the film.