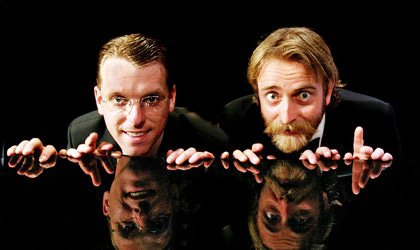 Join award winning comedian Tim FitzHigham and Jordan Clarke as they pay tribute to comedy songsmiths Michael Flanders and Donald Swann.
Lifelong fans and the uninitiated alike will delight to see the boys breathe new life into the much loved words and music of Flanders and Swann. Expect all the classics including The Hippopotamus (Mud, Mud, Glorious Mud), The Gnu and The Gas Man Cometh – plus a few hidden gems along the way!
So join Tim, Jordan and the Hippo for the most sublime Flanders and Swann show since… well, since Flanders and Swann themselves!
WHY? 'Impressive, suave… a delight!' The Times
At some performances Simon Townley or Jordan Clark will appear in place of Duncan Walsh Atkins.
Courtyard Theatre
£15 (£13 conc)