M
B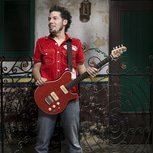 Hamilton Loomis
Award winning Texan guitarist Hamilton Loomis is at the forefront of bringing blues into the 21st century.
The Grammy nominated musician deftly balances his blues roots and penchant for experimentation and originality. He is the protégé of legendary blues artist Bo Diddley who has become a friend and mentor.
Hamilton is joined by a line up of top musicians including Grammy award winning saxophonist Fabian Hernandez.
WHY? 'If blues, soul, and rock can be said to form a triangle, you'll find Hamilton Loomis right in the centre of it' Guitar Player Magazine
Courtyard Theatre
£15