M
B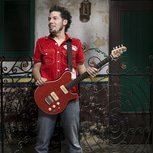 Hamilton Loomis
Award winning Texan guitarist Hamilton Loomis is at the forefront of bringing blues into the 21st century.
The Grammy nominated musician deftly balances his blues roots and penchant for experimentation and originality. He is the protégé of legendary blues artist Bo Diddley who has become a friend and mentor.
Hamilton is joined by a line up of top musicians including Grammy award winning saxophonist Fabian Hernandez.
WHY? 'If blues, soul, and rock can be said to form a triangle, you'll find Hamilton Loomis right in the centre of it' Guitar Player Magazine
Courtyard Theatre
£15
M
B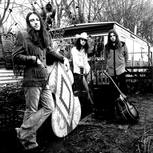 The Goat Roper Rodeo Band
With just an upright bass, two old guitars and a bucketful of aching harmony, this three piece band are preaching country blues like you have never heard.
The line up features Jim Davies (guitar, vocals), Tom Davies (double bass, vocals) and Sam Roberts (guitar, vocals).
WHY? Expect a hint of Gram, a sniff of Dylan and a twist of Waylon's blues
Studio
£12 (£10 conc)