M
B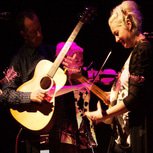 Kit Holmes
Enjoy an uplifting evening of gorgeous guitar, poignant lyrics and feisty fiddle playing, all with Kit's incredible sense of fun.
Her trademark sultry vocals and virtuoso guitar playing have wowed audiences across the UK through extensive touring with the guitar hero, John Etheridge. Expect an enthralling and energetic live performance of blues driven roots with a soul sensibility. Kit is joined by Al Greenwood (guitar).
WHY? 'Full of warmth…an absolute delight' The Observer
Studio
£14
M
F
B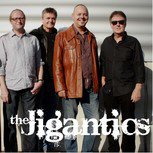 The Jigantics - Seconds Out Tour
A fabulous fusion of blues, modern folk and Americana from a stellar band of musicians from Colvin Quarmby and Sons of the Delta, playing guitar, fiddle, mandolin, bass, squeezebox and harmonica, touring their new album 'seconds out'.
WHY? 'Fantastic music from The Jigantics. A high quality, highlight act who are clearly destined for great things' The Telegraph
Studio
£14