F
T
B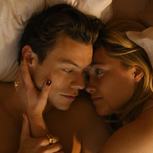 Don't Worry Darling (12A)
Dir: Olivia Wilde 2022 | 123 mins
Alice (Florence Pugh) and Jack (Harry Styles) are lucky to be living in the idealised community of Victory.
It's an experimental company town housing the men who work for the top-secret Victory Project and their families.
CEO Frank (Chris Pine) is equal parts corporate visionary and motivational life coach. He espouses a 1950s societal optimism which anchors every aspect of daily life in the tight-knit desert utopia.
While the husbands spend every day inside the Victory Project Headquarters, their wives spend their time enjoying the beauty, luxury and debauchery of their community.
But cracks in their idyllic life begin to appear. Alice can't help questioning exactly what they're doing in Victory – and why.
An audacious, twisted and visually stunning psychological thriller.
£10.50 | £9.50 conc
Bring Baby Screening
The screening on Wed 2 Nov at 2pm is exclusively for parents, carers and grown-ups with children under 2 years. Lights are kept on low level and you can move around if you need to. Tickets are £5.50 for adults (including a cup of tea/coffee); babies and infants are free of charge. Seating is unreserved and unaccompanied adults are not admitted.
Talking Tables
The screening on Tues 1 Nov at 8pm is a Talking Tables screening. These events aim to bring people together in a relaxed environment to discuss films, share ideas and most importantly - to meet new people! It is particularly aimed at people coming to Norden Farm on their own, but all are welcome. To take part, simply book in to see the screening, then join the group in the foyer before and after the film.