V
C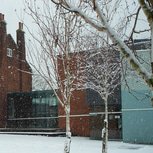 Night Market and Artisan Fair
The perfect opportunity to browse for unique presents as local artisan stallholders showcase their handmade wears. Enjoy all your favourite festive snacks and beverages together with a well stocked bar featuring craft ales, mulled wine and a full food menu. The night market also features live music.
WHY? Your Christmas shopping just got a whole load more fun!
Long Barn Free entry
C
F
S
The Bear
From the book by Raymond Briggs
Adapted by Pins and Needles Productions.
Ever wondered what it would be like to sit on a polar bear's lap? Or ride on its back? Have you ever tried to give a polar bear a bath, or clear up its poo?
One night when she's fast asleep, Tilly is visited by an enormous bear. It has a big black tongue and a yawn as big as your head. But Tilly's not scared.
The story of a little girl who befriends a mischievous polar bear, this playful, funny and heart-warming tale is one of imagination and growing up.
Featuring inventive design, original music, and magical puppetry.
'Move over War Horse, this polar puppet is magic' The Guardian
Click here to read the full review.
D
C
F
New Year's Eve Hoedown at The Farm 2019
Heck yeah, it's our most glamorous, glittering hoedown yet!
Our popular New Year's Eve event returns to ring in 2020! Join ceilidh and barn dance band Cut a Shine for an evening of music and all types of barn dancing on the Courtyard Theatre dance floor. Featuring sparkling sing along sets in our Studio Saloon Bar, hosted by cabaret star Miss Em. Dust off your cowboy hats, rhinestone adorned outfits or most glamorous attire for a night of unforgettable fun at the Farm!
WHY? A fun, lively and thrilling way to celebrate this New Year's Eve!
Age guidance 12+ years
Norden Farm
£20 before 31 October, £25 after
Supporters £17 before 31 October, £22 after