O
M
C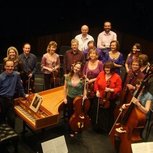 St John's Chamber Players: Christmas Baroque
Last January, St John's Ensemble gave the last of its nineteen New Year's Day concerts – but the string players are reconvening for this special extra event to bring some Christmas cheer.
Bach Violin Concerto in A minor
Handel Pastoral Sinfonia from Messiah
Vivaldi Concerto in B minor for 4 violins
Bach Brandenburg Concerto No.3
Vivaldi Concerto in A minor for 2 violins
Telemann Suite in G Don Quixote
Bach Violin Concerto in E major
We are delighted that Jonathan Stone, stunning soloist in The Four Seasons two years ago, will join the ensemble. He plays both of Bach's great violin concertos – and there are more popular concertos to enjoy too, as well as Telemann's witty take on Don Quixote. Nigel Wilkinson directs from the harpsichord.
Courtyard Theatre and Live Stream
£15
Booking cut off time: 7.30pm Saturday 19 December

In line with current government guidelines, this event has a reduced capacity with socially distanced seating. This is subject to change as we monitor government advice. Seat numbers are also subject to change.

Online streaming tickets are also available for this event – so you can enjoy the show live from the comfort of your home.
Please prepare for your visit by reading our latest Visitor Information here. This includes important information about face coverings, social distancing and measures we have implemented to keep everyone safe when visiting Norden Farm.