M
C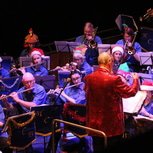 Maidenhead Concert Band
Christmas Charity Concert.
Tonight's Concert is in aid of Accessible Boating Thames.
A local charity operating a small fleet of accessible boats for a wide range of abilities from Bisham Abbey.
A wide variety of music including tunes from shows, films, and traditional Christmas favourites.
Courtyard
£10
M
C
Mozart Birthday Concert
The annual Mozart concert takes place this year on the composer's exact birthday.
Eleanor Holmes (violin)
William Padfield (horn)
Henry Cash (piano)
Nigel Wilkinson (conductor)
Violin Concerto in D, K.218
Horn Concerto in E flat, K.417
Piano Concerto No.23 in A, K.488
Featuring three delectable concertos.
Henry Cash took 2nd prize at the 2021 Mottram International Piano Competition in Manchester, and gave an exceptional recital at Norden Farm last year. He'll be playing one of the most joyous of all Mozart's piano concertos.
William Padfield last appeared with St John's Chamber Orchestra in 2018. He plays the horn concerto with the ever popular finale.
To open, one of the early violin concertos will be performed by RAM Scholar Eleanor Holmes.
Courtyard Theatre
£20 I Under 18s free