D
T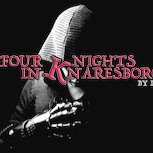 Four Nights in Knaresborough
In 1170, Thomas Becket, Archbishop of Canterbury, was assassinated. Why? A misunderstanding or order of the King? We don't know. But this modern play offers an insight. The assassins retreated to Knaresborough Castle and spent a year there under siege.
A baudy, irreverent comedy of the blackest variety.
WHY? Historical drama for the Tarantino generation!
Studio
£14 (£12 conc)
Please note this production contains adult themes and strong language.
M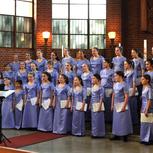 Three Choirs Concert
Three Choirs Concert hosted by Taplow Girls' Choir: Conductor Gillian Dibden,
with guests – Holyport College Senior Girls' Chamber Choir: Director Jo Bryant and Beaconsfield High School Senior Girls' Chamber Choir: Director Victoria Henshall.
Three high quality choirs celebrating the glory of choral music.
Courtyard Theatre
£12 (£10 under 16s)