M
F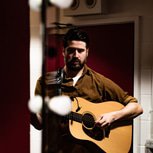 Kris Drever
Kris Drever is a Scottish folk singer songwriter.
He has won multiple awards including an incredible seven BBC Radio 2 Folk Awards, two shortlist nominations for Scottish Album of The Year (with his trio Lau) and much acclaim for his solo recordings and concerts including glowing reviews from The Herald, The Guardian, Mojo and Q Magazine.
His recent single Scapa Flow 1919 was nominated for Best Original Track by BBC Radio 2 Folk Awards whilst his (John Parish produced) album with Lau Midnight and Closedown was released in 2019 by Reveal Records to wild acclaim including being chosen in The Best Albums of The Year feature by The Guardian.
Drever's voice and guitar form a part of the backbone of today's contemporary roots and folk scene. Hugely admired as a solo artist, collaborator, a phenomenal and prolific artist. Kris has collaborated with Cream's Jack Bruce, Bela Fleck, Tinariwen, Joan As Police Woman, Jerry Douglas, Danny Thompson, Tim O'Brien, Sarah Jarosz, Shawn Colvin, Phil Cunningham, Rosanne Cash, Roddy Woomble, Eddi Reader, Adem, Kate Rusby, Julie Fowlis, Karine Polwart, Seckou Keita and many more. One of Scotland's finest and most in demand musicians.
'The folk revival has a new standard bearer' Q
'Folk Singer of The Year & Best Original Track Award Winner' BBC Radio 2 Folk Awards 2017
'Completely infectious' ★★★★★ BBC Music
'Utterly stunning' fRoots
'Immense yet ultra-supple sophistication, musicianship of the first order...a breath of fresh air' Songlines
'Guitarist with that bravely experimental trio Lau, Kris Drever has all the makings of a solo celebrity' ★★★★ The Guardian
'Kris Drever is a serious talent' Mojo
M
F
Fairport Convention
Fairport Convention has been entertaining music lovers for over half a century.
During that time the band that launched British folk-rock has seen many changes. But one thing has remained the same - Fairport's passion for performance.
This year's Autumn Tour concert will present a mix of long-established Fairport favourites and some surprises from albums old and newincluding their latest album 'Shuffle & Go' which was released in 2020.
Fairport Convention have won a BBC Lifetime Achievement Award and Radio 2 listeners voted their ground-breaking album Liege & Lief 'The Most Influential Folk Album of All Time'. Their story has been celebrated with television documentaries on BBC Four and Sky Arts.
The band features founding member Simon Nicol on guitar and vocals, Dave Pegg on bass guitar, Ric Sanders on violin, Chris Leslie on fiddle, mandolin and vocals, and Gerry Conway on percussion.
'Stuffing their set with a surprising amount of new material for a vintage act, Fairport are still clearly having fun and brought the house down.' The Guardian
'Fairport is an institution, a festival, purveyors of memories, and keepers of the folk flame. But most of all they are a brilliant live band.' Folk & Tumble
Courtyard Theatre
£28
M
F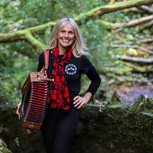 The Sharon Shannon Quartet
Sharon Shannon is a musician who likes to surprise. While she is known for her arrangements of traditional Irish tunes and Irish-influenced compositions, she has always been eager to explore new styles, and to meet and work with other musicians.
The accordionist from Ireland has achieved legendary status throughout the world and has made the much-maligned accordion 'cool' in her home country. Renowned for her collaborations, not just in Irish traditional music, but through all musical genres, Hip-Hop, Cajun, Country, Reggae, Classical and Rap.
The genre-defying star has achieved multi-platinum album sales and has had several number chart topping albums, singles and DVDs in her home country. In 2015, she received an IBAM Award in Chicago for her 'unique contribution to Irish Music' Other recipients were Darina Allen and actor Liam Neeson.
Sharon's latest studio album, The Reckoning, will be released on 27 November this year. This album was composed, written and recorded in its entirety during lockdown, featuring over a dozen remote collaborations from locations across the globe. All the tracks on the album are newly composed original tunes and songs which are co-written by Sharon and band members and various guest collaborators.
Courtyard Theatre
£20