V
G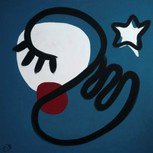 Never Mind the Blocks – Tim Styles
Unpretentious, bold and blatantly playful blocks of colour sit behind vivid and improvised strokes to deliver a unique minimalist vision.
Tim has been producing original artworks for over a decade. His unique blend of influences bring together sumi-e style spontaneity with controlled, geometric simplicity. A junction where calm meets chaos, reflecting the relationship humans have with nature.
F
V
C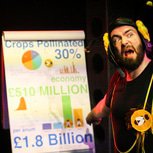 Jump In! Exhibition – Bee Me
An exhibition created with local schools and inspired by Me and My Bee, a show in the Jump In! Family Arts Festival.
Albert Einstein said that without the bees, humans have four years left to live. We rely on bees to pollinate one third of the crops we use as food.
This special multi-sensory experience for diverse family audiences including children with SEN, explores the importance and plight of bees, and gives ideas for what we can do to help the bee population.
V
G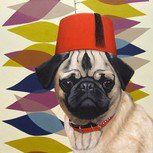 It's a Dog's Life – Paula Zimmerman
Paula gained a degree in Art and Art History at Scarborough University in 1998 as a mature student.
Her career as an artist began as a ceramicist making quirky animals. She became interested in painting, initially as an abstract painter. Now she enjoys working with colour design and animals. She combines both in her animal portraits.