V
C
G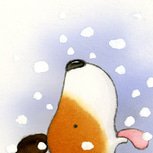 Mick Inkpen Exhibition
We are delighted to host an exhibition of work by Kipper author and illustrator Mick Inkpen.
The exhibition also features the festive artwork entered into our Kipper's Snowy Day art competition.
Norden Farm Gallery
Wednesday 1 – Thursday 30 December
Free Entry
Find out more about this year's Christmas show Kipper's Snowy Day here.