M
J
O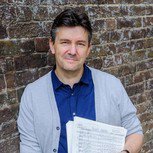 Pete Churchill (vocals, piano)
An evening of Jazz, live from the Courtyard Stage and programmed by the late Pat Kelly.
Pete's innovative style and astonishing creativity always produces a performance with the wow factor. He is highly respected in his field as lecturer in Jazz Vocals and Choral Jazz at the Royal Academy of Music and Guildhall. Supported by Simon Allen (saxes), Andy Cleyndert (bass) and Clark Tracey (drums).
WHY? Pete has been accompanist to legendary jazz singer Mark Murphy and conductor of the Kenny Wheeler Big Band
Courtyard Theatre and Live Stream
£15

In line with current government guidelines, this event has a reduced capacity with socially distanced seating. This is subject to change as we monitor government advice. Seat numbers are also subject to change.
Online streaming tickets are also available for this event – so you can enjoy the show live from the comfort of your home.
Please prepare for your visit by reading our latest Visitor Information here. This includes important information about face coverings, social distancing and measures we have implemented to keep everyone safe when visiting Norden Farm.