O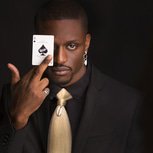 A Kind of Magic hosted by Magical Bones
Just because you're stuck at home doesn't mean you don't deserve a bit of magic! Your sofa is the best seat in the house for this very special live and interactive magic experience.
Join your host, internationally acclaimed magician Magical Bones, fresh from his hugely successful Britain's Got Talent appearance, as he invites you to not just watch but to take part this is truly unique show live via Zoom.
Plus special guest appearances - with exclusive jaw dropping performances from some of the hottest names in contemporary magic and circus.
£12 per household
Booking cut off time: 5pm on the day of each event
Run time approximately 45 mins
An online event from Broken Robot Productions.
O
S
A Celebration of Life
The power of poetry, celebrating life from childhood to twilight. An emotional, funny and heart-warming show.
A pre-recorded event from Maidenhead actor Clive Woodward, live streamed on Sunday 14 June 4pm. Clive performs his much loved show, A Celebration of Life, to raise funds for Norden Farm during this challenging time due to the ongoing Covid-19 crisis. All ticket revenue will go directly to supporting Norden Farm.
Based around poetry, the performance often reflects on Clive's varied and interesting life and includes amusing anecdotes and a splash of music.
Poems from childhood to twilight provide a powerful, emotional and fun afternoon – allowing you to reflect on and celebrate life. A perfect tonic at this time and geared to make you think, reflect, laugh and observe life during these unprecedented times.
Clive has acted in films, theatre, BBC radio plays and TV productions. He has performed his own shows A Celebration of Life and You, Me, Colin and Helen at various theatres. Clive is also a former national motor racing champion and commentator.
Norden Farm Online
£8 per household
Booking cut off time: 2pm Sunday 14 June
Find out more about the ways you can support Norden Farm here.