F
R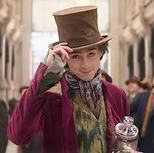 Wonka (PG)
Dir: Paul King 2023 | 116 mins
Based on the extraordinary character at the center of Charlie and the Chocolate Factory.
The film tells the wondrous story of how the world's greatest inventor, magician and chocolate maker became the beloved Willy Wonka we know today.
An intoxicating mix of magic and music, mayhem and emotion, all told with fabulous heart and humor. Starring Timothée Chalamet in the title role, this irresistibly vivid and inventive
big screen spectacle will introduce audiences to a young Willy Wonka, chock-full of ideas and determined to change the world.
£10.50 | £9.50 conc
Special Ticket Offer
£9 | £8 conc tickets when you book for three films at the same time. Offer excludes event cinema screenings. Offer applied in basket.
Relaxed screening
The screening on Fri 29 Dec at 4.30pm is Relaxed - everyone is welcome to join us for this friendly format. The lights are kept on low and the audience are free to move around, make noise or come in and out of the theatre as needed.