F
F
S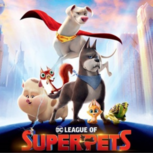 DC League of Super Pets (PG)
Dir: Jared Stern and Sam Levine 2021 | 105 mins
Krypto the Super-Dog and Superman are inseparable best friends, sharing the same superpowers and fighting crime in Metropolis side by side. When Superman and the rest of the Justice League are kidnapped, Krypto must convince a rag-tag shelter pack - Ace the hound, PB the potbellied pig, Merton the turtle and Chip the squirrel - to master their own newfound powers and help him rescue the superheroes.
£9 | £7 under 16s
Family & Friends (4 people) £28
Relaxed screening
The screening on Thur 18 Aug 2pm is Relaxed - everyone is welcome to join us for this friendly format. The lights are kept on low and the audience are free to move around, make noise or come in and out of the theatre as needed.
Due to staff shortages our kitchen will be closed until Tuesday 6 September. The bar will remain open as normal. Please accept our apologies for any inconvenience caused.
F
S
C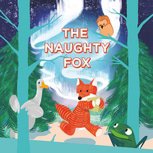 The Naughty Fox
Snuggle up in a magical den with comfy creatures - Honk, Splash and TaWit TaWoo - as they teach The Naughty Fox a very important lesson: it's better to share.
Set in the magical forest, Fox goes on an adventure to learn from the Aurora that sharing is caring.
Feel your way through the immersive, multisensory journey of friendship and play for little ones and their grown-ups. Fully accessible and relaxed.
'Just seen The Naughty Fox, it's an absolute delight, a multisensory show for littleuns!' Maddie Moate, CBeebies
Experience a world of puppetry, music, light projection and bubbly energy as our two storytellers bring household objects to life.
'My eldest (3) never shares… when we got home with our naughty foxes, he kept sharing because "sharing is good mummy!" Parent feedback
The show integrates creative captions for deaf and hard of hearing audience members.
All performances are relaxed.
Age guidance 0 - 5 years.
Studio
£12 | £10 under 16s
Family and Friends (4 people) £40
Produced by Toucan Theatre.
Supported by Arts Council England and Stage One.
Originally supported by The Marlowe, Canterbury.
F
T
S
One Snowy Night
A Tale from Percy's Park by Nick Butterworth.
One winter's night it was so cold it began to snow
Great big snowflakes fell past the window of Percy's hut…

Percy the Park keeper always feeds the animals in the park where he lives. But one cold winter's night Percy finds his little friends shivering on the doorstep – they need more than food and he must find a way to help them…
A snuggly, fun and heart-warming story, with songs to sing along to and furry friends to meet.
'Magical – an ideal introduction to the theatre for children' ★★★★★ The Stage
Created by Slot Machine, the company that brought the hit Christmas shows Miki and Kipper's Snowy Day to Norden Farm.
'A little gem! ...Very creative and so much fun. Our daughter couldn't stop laughing out loud' ★★★★★ Netmums
Suitable for ages 3+ years.
Relaxed Performances
The performances on Saturday 3 December at 11am and Wednesday 28 December at 11am are Relaxed. Ideal for families with babies or toddlers and children with SEND. Everyone is welcome to join us for this friendly format.
Signed Performance
The performance on Wednesday 21 December at 11am will be signed.
Courtyard Theatre
£15 | £13 under 16s
£52 Family & Friends (4 people)
£48 Family & Friends Early Bird Offer! (if booked before Wednesday 31 August)