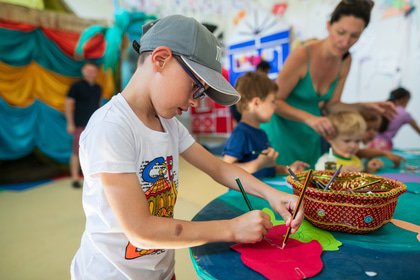 Relax and kick back in our peaceful Goan chill out space.
Lie back and enjoy projections in the fisherman's hut or go fish in shiny waters and add your creations to the walls. Gentle rhythmic sounds in this colour filled space complete the total relaxation experience.
This gallery installation includes work made with local schools through Norden Farm's Farm Out programme and with young people through our Young Creatives programme supported by the Spoore Merry and Rixman Foundation. Suitable for everyone, including children with SEND.