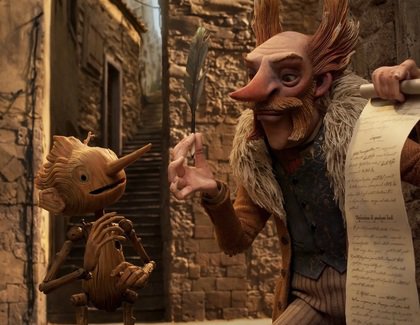 Dir: Guillermo del Toro 2022 | 117 mins
The Oscar winning filmmaker reinvents the classic story in this stunning stop-motion musical tale.
A wooden marionette is magically brought to life in order to mend the heart of a grieving woodcarver named Geppetto.
What follows are the mischievous and disobedient adventures of Pinocchio in his pursuit of a place in the world.

Talking Tables
The screening on Tues 6 Dec 8pm is a Talking Tables screening. These events aim to bring people together in a relaxed environment to discuss films, share ideas and most importantly - to meet new people! It is particularly aimed at people coming to Norden Farm on their own, but all are welcome. To take part, simply book in to see the screening, then join the group in the foyer before and after the film.
Relaxed Screening
The screening on Thur 8 Dec 4.30pm is Relaxed - everyone is welcome to join us for this friendly format. The lights are kept on low and the audience are free to move around, make noise or come in and out of the theatre as needed.