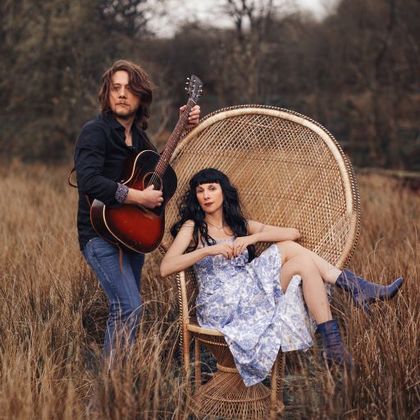 This seemingly unlikely duo have recorded two studio albums, Before the Sun (2016) and Awake (2018), produced by award-winning producer David Travers-Smith.
They have toured the UK, North America and mainland Europe, and on festival stages alongside Americana and folk luminaries such as Sarah Jarosz, Martin Simpson, Seth Lakeman and Oh Susanna. They also appeared at the West Java World Music Festival, Indonesia in 2019.
Hannah Sanders has an alluring mystique and a voice of disarming purity that massages your senses with gentle ease. Ask her nicely and she will discuss witchcraft, tarot cards and her adventures in a family band busking through Europe in an old school bus.
Ben Savage is a bubbling ferment of energy, all fluffy hair, unkempt charm and infectious enthusiasm who will seemingly play any instrument you care to put in front of him with grace and favour. Ask him nicely and he will debate any musical tradition you care to mention and will tell you all about the dobro and his adventures with the band The Willows.
They incorporate various traditions, but play contemporary music. They have their own unique writing style too. They play English songs with mountain dulcimer and dobro. The duo also incorporate ghost stories, blues, Northumbrian music, electric guitar, Woody Guthrie, murder ballads, Billy Bragg, human seals, old time songs, the Stockholm Archipelago, hangings, Appalachia, new moons, Joan Baez, cowboys, railway journeys, street singers and Cambridge into one mesmerising explanation of their musical philosophy. They are not your average acoustic duo, that's for sure.
Playful and instinctive, they constantly do the unexpected; yet they do it with such panache and natural chemistry it makes perfect sense. They are true originals, that's all there is to it. Distinctive. Innovative. Ground-breaking. Unique.
'This is folk music for everyone – a master-class in proficiency, an exercise in individuality and a declaration of love of the folk tradition from both sides of the Atlantic' ★★★★★ Spiral Earth
'An exquisite soundscape, which is the result of passion, precision and unbridled intimacy' ★★★★★ R2 Magazine
'Arrestingly beautiful' ★★★★★ Songlines
Studio
£16
Hannah & Ben's website
@hannahbenmusic
@nordenfarm
---
☆☆ ♡ We're nominated for Best Theatre / Arts Venue in the Muddy Stiletto Berkshire Awards! ♡ If you love Norden Farm as much as we do, please show your support and vote for us here ♡ (remember to verify your email or the vote won't count!) ♡ ☆☆
---