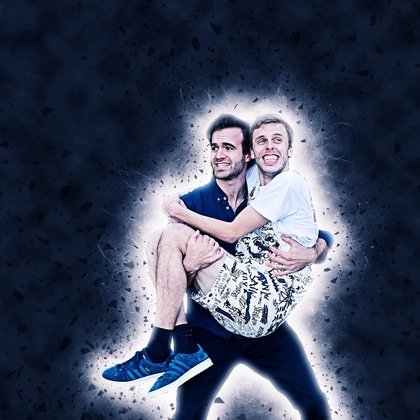 The hottest comedy-rap-jazz duo out there.
They might also be the only one. After sell-out runs of their 2016 and 2017 shows at the Edinburgh Fringe, Harry Baker and Chris Read have been featured three times on Sky's The Russell Howard Hour.
Last year they prevented a apocalypse and got a panda pregnant, so they're now drunk on comedy-rap-jazz power, intent on bringing love and laughter to a world that needs both more than ever.
WHY? 'Amazing, fabulously entertaining' Jonathan Ross
'A wonderful blend of infectious songs packed with sharp, clever wordplay… Harry and Chris' family friendly set leaves the audience with a smile on their face and the catchy tunes stuck in their head for the rest of the day' ★★★★★ The Sunday Post
'The numbers are upbeat and feel-good, and all of them are about surprising and inventive subjects or points of view' ★★★★★ Fringe Guru
'The pair are inspiring Instagram posts in human form' Chortle
Studio
£12.50