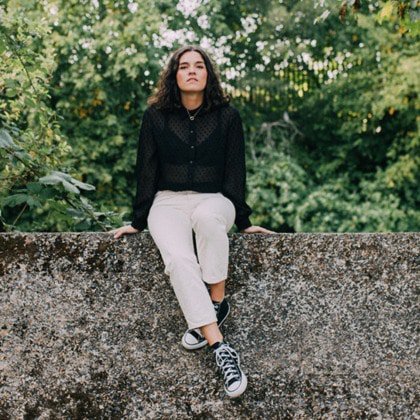 Vocalist Hattie brings a Joni Mitchell inspired evening.
Hattie Whitehead (vocals and guitar)
Tim Whitehead (sax)
Alex Hutton (piano)
Darren McCarthy (bass)
Tom Hooper (drums)
Hattie Whitehead does not pull her punches. Think Liz Lawrence meets Joni Mitchell. Her smart lyrics and powerful, outspoken female voice blend folk sensibilities with an undeniably modern sound.
Performing and writing since a young age and born into an artistic family Hattie has won the Glastonbury Emerging Talent Competition in 2016 and her self released EPs have over 200k streams.
The self-produced video for Hattie Whiteheads 2018 single "Up's and Downs" clocked over 50k views on Youtube. It is no surprise that with her uncanny ability to graft complex narratives to memorable melodies that Hattie has also seen success with sync work.
She was hand picked by Guy Garvey to write for and perform on soundtrack for the hit Apple+ TV show for "Trying Season 1". On the first single from the campaign "No Man's Land" (released 30th September 22) she dives into the experience of loss that permeates much of her material to date. Written in direct response to the loss of her mother, the song describes an experience that is all the more relevant in the post-pandemic world we live in today where loss is all around us.
The outcome is a body of work that takes Hattie's unflinching honesty when discussing the industry and it's troubled relationship to women or un-earthing with eye-widening vulnerability her own personal experiences and places the sound squarely in 2023.
From Ian Car's Nucleus in the 70's to the iconic 80's allstar Loose Tubes collaboration, Tim Whitehead has been a central role in British Jazz for many decades. Co-founding 'Jazz Umbrella' in the 80's and 'Way out West in the 90's, He has also helped provide a network and platform for other musicians.
This show will centre around Hattie's love of Joni Mitchell. – The more jazzier side of Joni Mitchell. It will also feature the world class saxophone of Tim Whitehead.
'It's not just his mastery of the tenor saxophone, phenominal though it is, but the absolute conviction of his playing that is so impressive.' Dave Gelly - Observer
'The song Ups and Downs highlights Whitehead's rich, honeyed vocals as well as her talent for writing enthralling melodies and soul-baringly honest lyrics.' The Telegraph
'The singer-writer from Richmond in London, wears her heart and her accomplished song craft on her sleeve with the self-released single More Than That. It's an appealingly open faced love song.' Prog Magazine
'Hattie's got the sort of talent that means in a couple of years time we'll all be boasting about being here tonight.' For Folk's Sake
When the Horn Blows – 'There's something incredibly wholesome about Hattie Whitehead's folk-tinged vocal, her delivery is tender and matter of fact, pure and warm despite some of the melancholia in the lyrical theme.' PressPlay Ok

Studio
£16