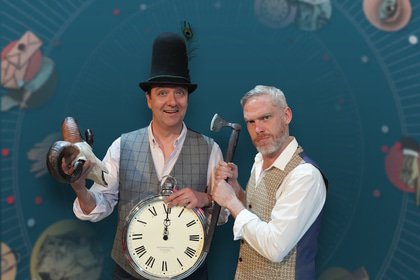 History and merriment for ages seven to 107!
History as you've never seen it before in this fun for all the family historical extravaganza!

Why is the history of shrinking all about the Spanish Armada? Why is the history of oranges all about Tudor spies? What links Henry VIII and Anne Boleyn to windows, bells and fire? Why is the history of rings all about the death of Elizabeth I?
Expect mind-bending stories, shocking tales and fascinating relics as our critically acclaimed Histories of the Unexpected duo rampage around the past, leaving no stone unturned (and no historical window unbroken) in their madcap mission to make sure that you never think about the Tudors in the same way… ever again!
Sam Willis is one of the country's best-known historians and has made more than ten TV series for the BBC and National Geographic including The Silk Road and Invasion!
James Daybell is Professor of Early Modern British History at Plymouth University and is one of the country's finest historical thinkers.
Age guidance 7+ years.
WHY? 'Fun, witty and fast-paced…an innovative approach to telling history' BBC History Weekend
'It's Genius!' Pail Ross, Talk Radio
'History as you've never seen it before' Dan Snow
'It's the new Horrible Histories' BBC Radio Devon
Courtyard Theatre
£11 (£9 under 16s)
Family and Friends (4 people) £36
Histories of the Unexpected Website