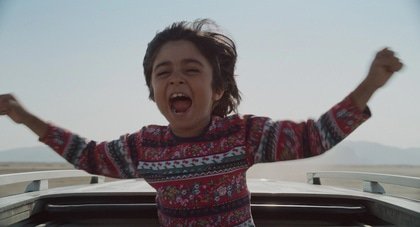 Dir: Panah Panahi, 2021 | 94 mins
Persian with English subtitles.
Dad (Hassan Madjooni) sits moodily in the back with an ostensibly broken leg, while Mom (Pantea Panahiha) drives and tries to laugh when she's not holding back tears. An energetic youngster (Rayan Sarlak, in a star-making performance) keeps exploding into song and scrambling around the car. All are fussing over their sick dog and getting on each others' nerves; only the mysterious older brother (Amin Simiar) is quiet.
It's clear they're on a road trip across a rugged, often extremely beautiful landscape – but where are they headed?
'All of Iranian life on four wheels' ★★★★★ The Observer
£10.50 | £9.50 conc

Three Films Ticket Offer
£9 / £8 conc tickets when you book for three films at the same time. Offer excludes event cinema screenings. Offer applied in basket.

Talking Tables
The screening on Tues 13 Sept 8pm is a Talking Tables screening. These events aim to bring people together in a relaxed environment to discuss films, share ideas and most importantly - to meet new people! It is particularly aimed at people coming to Norden Farm on their own, but all are welcome. To take part, simply book in to see the screening, then join the group in the foyer before and after the film.