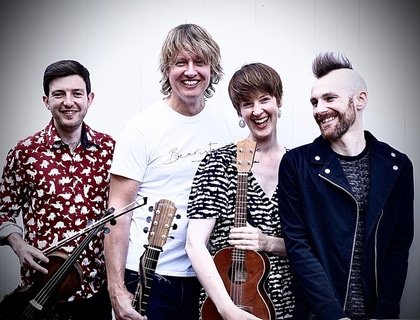 The British folk and roots duo combine delicately interweaving vocal harmonies with emotive and evocative song writing.
With a diverse range of sounds and textures, and rhythms that flow from the fast and furious to gentle ballads, their live performances are spirited and dynamic. Conjuring stories in song, they tell tales of Suffolk folklore, courageous people they admire, their passion for nature and the odd heartbreak or two.
The multi instrumentalist pair are comprised of songwriters Jon Hart (guitar, bass, bazouki) and Lucy Hart (guitar, ukulele, bass, banjo, mandolin & percussion). They are joined onstage by band guests Evan Carson (drums) and Toby Shaer (fiddle, flutes, whistles) who also perform on both Honey & The Bear studio albums.
'Lucy and Jon's vocals are gentle, rich and mellifluous throughout… This is an accomplished album from a masterly duo' Nygel Packett, Folk London Magazine
'This album is one of the clearest recordings I've heard in a decade, holding its head above the roke and into the sunlight on every track' Seán Laffey, Irish Music Magazine
'The vocals of Lucy are as beautiful as ever….and she is now one of this country's best folk singers' Stephen Foster, Radio Caroline & EADT
Studio
£15
Honey and the Bear website
@HoneyAndTheBear
@nordenfarm