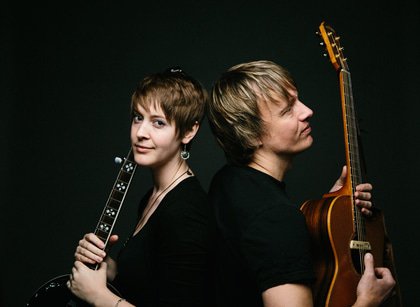 The British folk and roots duo combine interweaving vocal harmonies with emotive and evocative songwriting.
With a diverse range of sounds and textures, and rhythms that flow from the fast and furious to gentle ballads, their live performances are spirited and dynamic.
The multi instrumentalist pair, comprised of songwriters Jon Hart (guitar, bass, bazouki) and Lucy Hart (guitar, ukulele, bass, banjo, mandolin and percussion). They are accompanied by fellow musicians Evan Carson and Toby Shaer (both of Sam Kelly & The Lost Boys). The duo are touring with their brand new album Made in the Aker.
WHY? Conjuring stories in song, they tell tales of Suffolk folklore, courage, passion and heartbreak
Studio
£14 (£12 Supporters)