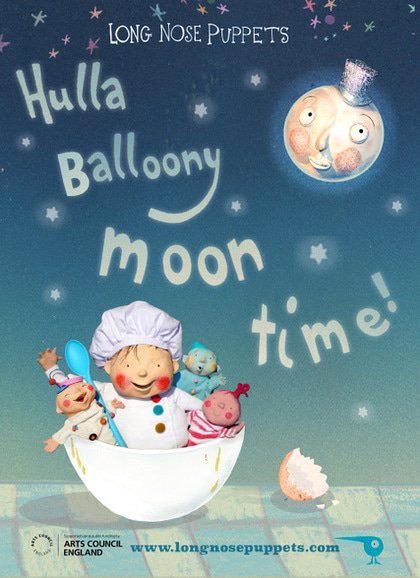 Presented by Long Nose Puppets.
A marvellous moonlit show based on the book Pat-a-Cake Baby.
'Cake mixing, baking and eating fuel this zingy, high-energy story as a restless baby sets about a night-time adventure.' Guardian
Are you ready? Grab a spoon! Because it's Pat-a-cake time!
Pitter-patter – get the butter! Glitzy-glossy – whisk in sugar! Jokey-yolky – add the eggs!
Long Nose Puppets offer up a marvellous moonlit show full of riotous rhyme, zany puppets and spiffy special cake; all iced with music and songs by Tom Gray. Little children will feel stuffed to the brim with magic.
HULLA BALLOONY MOON TIME is based on the book 'PAT-A-CAKE BABY' written by Joyce Dunbar and illustrated by Polly Dunbar.
Winner of the Mal Peet Children's Award at the East Anglian Book Awards.
Aimed at 2-8 year olds.
Longnose continue to demonstrate their skillfulness in making surprising and highly visual puppetry work for young audiences. Sweet!
Running time 45 minutes plus a dance with the moon!
This zany puppet show is all about baking a very special cake. Based on Joyce Dunbar's rhyming picture book, it's a sweet creating that's full of mess and silliness with original songs as the cherry on the top. Time Out
Studio
£12 I £10 under 16s
Family and Friends (4 people) £40
Tickets for children under 18 months For this show, tickets/ seats are not required for children under 18 months who are happy to sit on laps