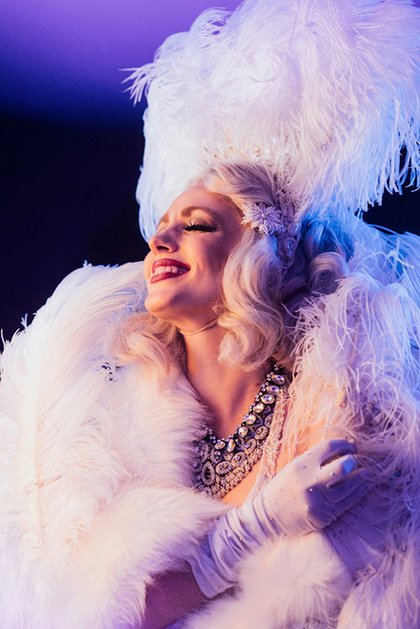 Hundred Watt Club invite you to peek inside their cabinet of curiosities and celebrate Halloween with an evening of bizarre burlesque, queer cabaret and sublime circus entertainment.
Hosted by our lewd and loveable strumpet Aunty Mae, with spine-tingling striptease from showgirl Velvet Jones and gravity defying circus stunts from Jamie Double. Meet burlesque clown Giddy Heights and her puppies, and dare to step into the madcap world of Griffin and Jones...You'll never be the same after a glimpse into this topsy turvy world!
Not for the fainthearted, this show employs and embraces adult themes, strong language and partial nudity with gusto. No refunds if it's simply 'not to your taste'! Glamorous, vintage attire is encouraged (we love it when you dress up!) but not enforced; wear what you're comfy in.
There's no dress code: Hundred Watt Club love it when their audiences dress in their vintage finery and red-carpet glamour, but if you're more comfy in jeans and sneakers - wear them!
There'll be a bottle of prosecco and a pair of coveted Hundred Watt Club tassels up-for-grabs on the night for the person awarded Best Dressed. What better excuse to get dressed up to the nines?!
Age guidance 18+ years.
'Old school mischief and timeless raunchiness collide at the Hundred Watt Club. Hats - and corsets - off to Lena Mae for an excellent night of entertainment' Sussex Express
'Harking back to the gin drenched halcyon days of a grimy Berlin nightclub in the 1930s, Hundred Watt Club sparkles, fizzles and shines brightly on a dark night.' FringeReview.co.uk
'Righteous, radical...an absolute riot!' Mardigras Mag
Courtyard Theatre
£16
In a change to previously advertised times, this performance now starts at 8.30pm.