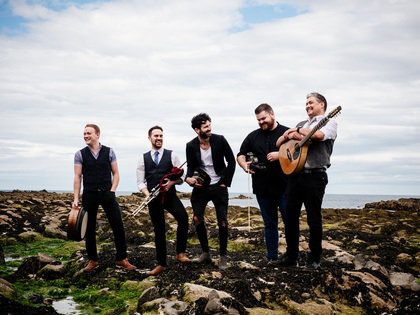 Presented by RM Promotions.
The Irish / Manx / Scottish quintet are BBC Radio 2 Folk Award winners. They are amongst Glasgow's hottest folk property.
They have a wide reaching fanbase throughout the UK, Europe, USA and Canada. The quintet have fast become one of the trad scene's most talked about group. It's thanks in no small part to their debut video L'Air Mignonne becoming a viral smash in 2016. It catapulted the group to the attention of audiences and media worldwide.
Their two albums - Afterlight and Avalanche - have since amassed a devoted listenership. Live audiences are transfixed by their collective and individual technical prowess.
The line up includes Adam Brown (bodhrán), Adam Rhodes (bouzouki), Mohsen Amini (concertina), Ryan Murphy (uilleann pipes) and Tomás Callister (fiddle). They all share a strong background in Irish music. It is a grounding that underpins many of Ímar's distinctive qualities, in both instrumentation and material.
The shared cultural heritages between Scotland, Ireland and the Isle of Man are well documented: all three once shared the same Gaelic language, and a similar, clearly potent, kinship endures between their musical traditions.
'Striking musicianship, artful arrangements and sheer absolute delight' Songlines
'Genuinely jaw-dropping collective virtuosity supplied frills to burn' ★★★★★ The Scotsman
'The energy that's seemingly bursting to let loose is tempered by a variety of instrumental formations and an attention to pacing that showcases the tunes' melodic strength, and even when the floodgates open the effect is all the more exhilarating for the underlying control and musicality' The Herald
Courtyard Theatre
£20