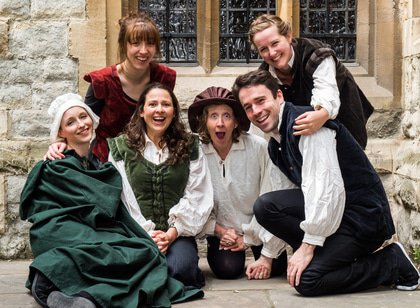 An online event streamed live from the Courtyard Theatre.
Bursting with love, poetry, comedy, tragedy, mistaken identity and everything in-between.
Impromptu Shakespeare brings you an entirely new and unique Shakespeare play inspired by audience suggestions to delight Shakespeare nerds and newbies alike.
Featuring a cast of leading theatrical and comedic improvisers, they've performed five critically acclaimed runs at the Edinburgh Fringe and two at the Bristol Shakespeare Festival.
WHY? 'Sublime... side-splittingly hilarious' ★★★★★ Broadway Baby
'Chaotic, riotous fun' ★★★★★ PlaysToSee
'Ingenious and very funny' Will Gompertz, BBC Arts Editor
Live streamed event
£15 per household (£13 Supporters)
Booking cut off time: 7.30pm on Friday 20 November
Impromptu Shakespeare's Website
---
Once you have booked your ticket, you can access the live stream on the night of the event by clicking here and logging in to your Norden Farm account.
Click here for a guide to accessing live streamed events and for information on allocating tickets purchased for other households.
---
How do our online events work?
This event will be streamed live via Norden Farm's online events platform. You simply need to book for the event as normal by the cut off time of 7.30pm on the day.
A link to access the stream on your device (computer, laptop, tablet etc) can be found above, alongside a link to our guide to accessing the stream and allocating additional tickets purchased for other households. These details will also be sent to bookers shortly after 5pm on the day of the event. You will need to know the login details for your Norden Farm online account to access the streaming page.
Recording of the show is strictly prohibited.